Current Projects
Spitfire X4683
The Jurca Spitfire project is based on the Mk I Spitfire X 4683, flown by the then Flt Lt Lovell, who on the 30 March 1941 shot down a JU 88 at Eston Hills, Cleveland.
The Junkers Ju 88 (4U+GH) was on a photo-reconnaissance sortie to Manchester when it was intercepted by two Spitfires of 'B' flight 41 Sqn based at RAF Catterick, the pilots being Tony Lovell & Archie Winskill.

A history of Anthony Desmond Joseph Lovell – Wing Commander
DSO*, DFC* (UK), DFC (US).
Tony Lovell was born in Ceylon on the 9th August 1919, & educated at Ampleforth College. He joined the RAF on a short service commission in November 1937, attending 6 FTS at Sywell, before joining 41 Sqn in late 1938.
Promoted to Flying Officer in May 1940, he saw his first saw action over Dunkirk at this time & throughout the Battle of Britain.
On the 28th July his Spitfire was shot-up by Major Werner Milders of JG51 & he crash landed, going to hospital with a leg wound. He was shot down again on the 5th September, baling out of R6885 near Benfleet, this time he was unhurt.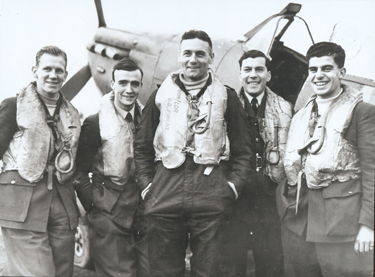 Flt Lt Tony Lovell 2nd in from left.
At the end of the month he was promoted to command a flight & on 26th November received a DFC. On 23rd May 1941 he was rested, going to 58 OTU, Grangemouth, as an instructor, & then in mid June to Catterick as an OPS room controller.
In late October he was given command of 145 Sqn, going to the Middle East with this unit in early 1942, receiving a bar to his DFC. Before the squadron became operational he was posted to HQ RAF, Middle East, going to 252 wing as a controller, & from there to 13 sector OPS room.
On the 21st July he was flown to Malta, taking command of 1435 Flt, which had just been reformed with Spitfires, this unit becoming a full squadron on the 2nd August.
The beginning of 1943 saw him rested again, returning to controller duties at 8 sector OPS at Malta as a Wing commander. He returned briefly to operations for a few days in March1943, but in July became Wing Leader at Safi.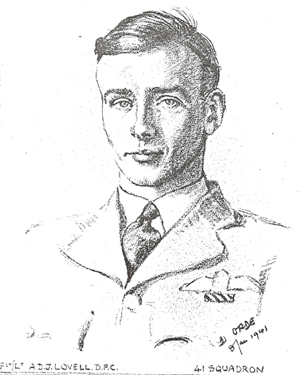 November 1943 saw him move to HQ NAF Coastal Air Force, then to 242 Group, in early December he joined 322 as Wing Leader, leading this unit to Corsica in March 1944 for operations over North-west Italy & the South of France.
On the 14th August, as the landings in Southern France got underway, he left the wing to join 1 Mobile operations room unit, Med Allied AF. He commenced a fifth tour of operations in November 1944 as Wing Leader 244 wing in Italy, also receiving a US DFC at this time, but in December was posted to 71 OTU at Ismailia as Chief Instructor. Here in February 1945 he received a bar to his DSO.
With the end of the war, he was posted home to the UK in June, where in July he joined the school of air support at Old Sarum as a supernumerary, taking command of the 5 Co-Op wing there at the start of August.
On the 17th August 1945, eight days after his 26th birthday & two days after the end of the war he took off in the communications Spitfire XII, EN234.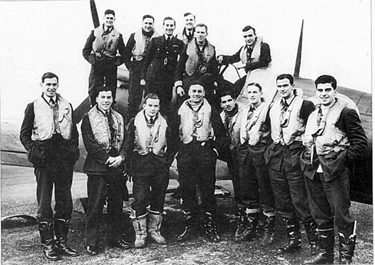 Tony Lovell - Stood in cockpit
He was seen to become airborne two-thirds of the way down the field, when he immediately raised the gear & held the aircraft down before performing a slow roll to the right, exiting about 100ft, he climbed slightly & began a second slow roll in the same direction.
After hitting some telephone wires the aircraft struck the ground, Tony was found dead some 15ft from the wreckage by a Brigadier Hicks.
Tony had 1510 solo hours, of which 1190 hours were on Spitfires.
News on this Project
The Spitfire wing has been signed off & painted.
The engine mount is away for structural analysis.
Simon has renewed his display licence.

Watch! Building the Dream - The Spitfire

View more images of other Spitfires

View images of the current Spitfire in progress

Downloads